Tencent Security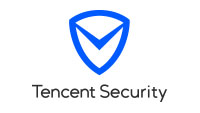 Diamond Sponsor
An Initiator of China's Cybersecurity New Ecosystem
Established by Tencent, Tencent Security is a leading brand in focus on Cybersecurity underpinned by the powerful – support of Tencent Security United Laboratory.
Tencent Security forms the strongest product matrix of security, providing all-round, user-facing security applications and solutions for enterprises and governments. These solutions form an army that secure Tencent's Internet services and the network security of users, enterprises, and governments.
Tencent Security has pioneered China's new Cybersecurity ecosystem by sharing years of core technologies and network security data with its partners. The company has constructed a security alliance and jointly pushed the construction of China's network security.